Croatia is probably the best sailing destinations in the world for several reasons: you don't have long distances to cross islands because it's all close together and much more safer compared to other destinations. The winds are generally calm, and the islands and coastline are lined with ancient historical ruins. You essentially have 1200 islands with unspoiled bays and a thousand miles of coastline in this Balkan country!
While sailing, Croatia's crystal blue seas allow for
swimming
almost anywhere.
In general, Croatia is a very safe country on land and sea – with low crime rates and it's sailing charters are still affordable. Preparation is the most important aspect of staying safe when sailing and it is important to be aware of the latest weather forecast and adjust accordingly for strong winds as you can see later on.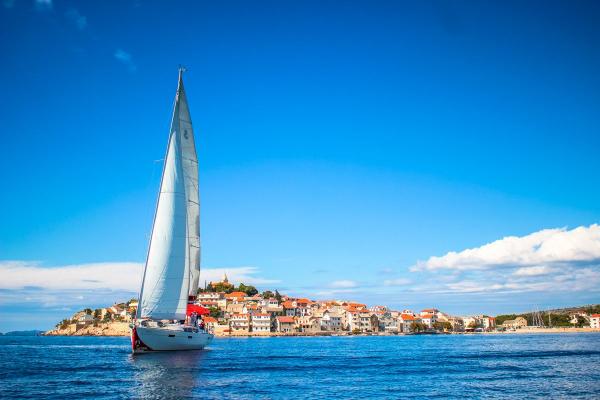 Primosten
Another benefit to the country being made up of many islands is that you are never too far from a port. Up to date maps are necessary to ensure safe and
accurate navigation
. Of course, if you are on a skippered sailing holiday as a novice sailor - all of those considerations are presumably known by your skipper.
Danielis-Yachting
is a great choice, which offers sailing yachts, catamarans, motor boats and gulets in Croatia, Greece, Italy and Turkey, and their Google Map's reviews are excellent.
The Best Sailing destinations
Dalmatian Coast (Southern Croatia)
The most popular sailing route in the Dalmatian region: Split to Dubrovnik offers the best of Croatia to sailors. Explore the islands of Hvar, Brač, Mljet, Korčula, and the UNESCO cities Split and Dubrovnik. You can explore the wonders of Mljet National Park. The minimum sailing duration is approx. 5 days, but it will worth doing it!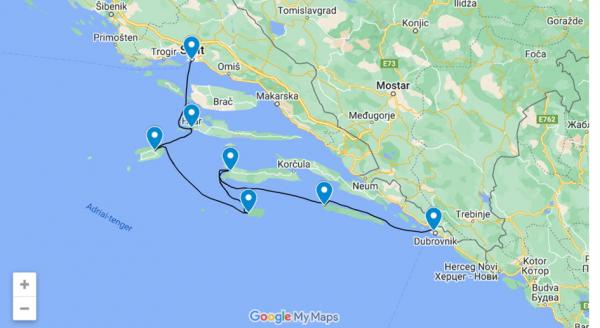 A good sailing route
Another 3 days journey starts from Split and heads towards Brač with white stones and olives. After that Hvar comes with its truly amazing lavenders, wine fields, and Vis, home of the unique Stiniva bay. On this route, you can also visit the impressive Blue Cave on the island of Biševo.
Istria (Northern Croatia)
Istria is the largest demi-island in the Adriatic Sea, located along the northern coast of Croatia. It was part of Italy formerly from 1919-1947 and is still influenced by Italians. Coastal towns like Rovinj, Porec and Pula are popular destinations for sailors and it can be quite crowded during the summer months. However, if you move a little bit into Istria you will explore amazing uncrowded towns and villages. Istria is a great option for families or groups looking to experience the natural beauty of Croatia.
In the north, the Istrian peninsula and Kvarner Bay have a high concentration of marinas and a more cosmopolitan feel than Dalmatia, due to the pervasive
Italian influence
.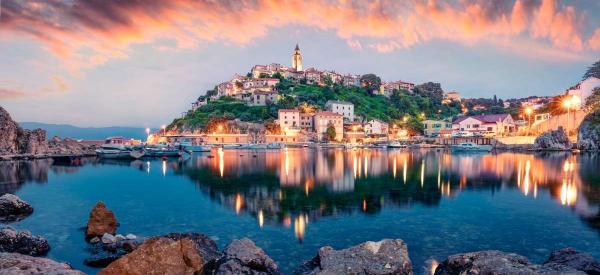 Kvarner Bay
Kornati is easily reached from Zadar, Biograd and Murter. For the feeling of wilderness, you can start here. It has 152 islands, rocks and islets, the Kornati archipelago is the densest group of islands in the Med. It is not for newcomers because of tricky sailing through islands and sticking rocks, but for peace and quiet, it is very impressive to take pleasure in deserted bays.
Harbors and Marinas
There are a bit more than 50 marinas in Croatia, half of them state-owned, recognizable by the acronym ACI (Adriatic Croatia International Club).
The prices of the
ACI Marinas
are fairly different. The popular ACI marinas in Split, Dubrovnik, Palmizana, Skradin or Korcula are high-priced, other marinas such as Umag, Piskera but also Cres and Zut belong to the rather cheaper harbors.
The ACI network ensures that you could always find a safe haven almost anywhere in the Croatian Adriatic, however the demand for space is still high. Overnighting in a marina is great for improving the confidence of inexperienced crew and for a little extra comfort. You will be moored on lazy lines and protected by a breakwater that reduces the motion of the boat to a very gentle sway. You can be sure to have access to showers, toilets, shore power and water, but sometimes electricity and water supply may be restricted.
Timing is essential
Avoid busy season, June to September if you can. Italians sail over en masse at the beginning of August and popular ports can be crowded in the evening. Charter prices are at their peak and most of the marinas add ten percent to mooring fees.
May and June can be warm and sunny, with relatively calm weather; however, the sea is still warming up. September is great for sea temperatures but you may find that some of the remote restaurants are closed.
Serious sailors may prefer the more
challenging weather conditions
in the shoulder season, which means April and October, but experts sometimes want to join in a winter sailing regatta. These months are just right to set your sails and trim the jib with extended periods of a strong northerly wind called Bura and a humid east-southeast wind named Scirocco.
Winds: Usually Friend, Rarely Enemy
Bura is definitely the most famous high-pressure wind that comes from the slopes of the coastal mountains towards the sea. The strongest
bura
was measured in 2003, reaching gusts of 304 km/h, but it's usually around 80 knots (~150km/h) as it gains momentum. Getting into a squall of 80 knots, breathing can be hard because of "sea smoke" which occurs during the
wind
tears off tiny droplets from the top of the waves. Its frosty doesn't even cherish your skin.
There is a long-established belief that a very strong bura appears 3 times in March. This phenomenon is called "tri marčane bure" with the meaning of "three buras of March". One thing is for sure: when bura sails then you don't.
Jugo
sometimes referred to as Šilok. It appears throughout all four seasons; it is more frequent in the south than in the north of the Adriatic. It not only brings big changes in the weather, such as dark clouds and rain-filled storms, but it also causes a change in mood, resulting in "fjaka". In other word: pains, depression, body aches, headaches and even grumpiness. The word "jugo" can be used as a synonym of inconvenient. You could say "This work is really jugo".
Maestral is a good ally of sailors, sometimes called summer wind which cools sailors down during hot days. It blows from the sea towards the land because of the differences in temperature between the land and sea itself. Sometimes it lasts one or two days, but usually it lasts several days, even more than a week. It is definitely stronger in central, and it is especially strong at the southern Adriatic than the northern areas. The absence of Maestral sometimes goes with a great change in the weather that follows.
Sailing Etiquette
1. Steer clear of
oncoming boats
and allow lots of space, especially for larger ones.
2. Try to anchor not too close to others. The wind can change direction quickly and cause huge damage in your boat or in others.
3. If you find another sailor in trouble, try to help them out.
4. You can enjoy crystal clear Croatian waters; this is why it is important to leave them in exactly the same condition.
5. It is all too easy to be complacent about water when you are surrounded by it, but your onboard water supply is one of the most valuable commodities you have. You have a limited supply of fresh water and you need it not only for drinking but for cooking. Make sure everyone aboard is aware of this aspect and the board is supplied with the right amount of water.
6. Learn a little Croatian – it will make the locals happy!
7. The mariner will call you using a specific international language with a lot of
hand-waving
, but there is no reason to worry. You will get it, even if you haven´t thought so.
Interesting Facts to Know before Making Sail
Not like in the US
Some
bloggers
say that Europeans are very respectful of their neighbors. In the US, people would probably be very chatty or party too loud, but not in the Adriatic where everybody behaves gently. When sailors put music on, they usually ask their neighbors if it is too loud then they honor their requests to turn it down.
Lazy Lines
Lazy lines are used in crowded marinas where multiple anchors would become fouled. Instead of the anchor holding the bow away, the bow is connected to a heavy bow line, which is pre-attached to a concrete block on the sea-bottom.
Weather is not always friendly
During the busy season, the climate is almost perfect, however nature can still be
erratic
, which may cause last-minute changes if the weather becomes too distracted. Before you set up for a trip always check the weather forecast and regular updates. The Coastquard Maritime
Safety Information
broadcasting can be easily monitored on boats equipped with VHF Radio.
Cheerfulness of your holiday may depend on your Croatian Yacht Charter
Renting a yacht or a sailing boat can be a depressing business when unexpected damages happen. Smashing-up with another boat, breaking down the boat railing, tearing the sail can easily ruin your holiday, that's why you should carefully find your reliable yacht charter agency!
Alfred Hitchcock, Game of Thrones, Island of changing shape, Lover's Island
There is a Croatian island with a nickname: "the shape of heart". This is the Island of Galešnjak, also known as the
Island of Love
.
Besides that there is a famous beach in Croatia called Zlatni Rat on the Island of Brač, which changes its shape depending on sea currents and wind.
Did you know? Game of Thrones - The most popular tv show in the world was filmed in Dubrovnik and Split.
Zadar is a home to the most beautiful sunset in the world as Alfred Hitchcock said. In Zadar, there is the world´s first sea organ which uses waves and wind to work out beautiful hypnotizing sounds.