Tenerife is 200 miles from the coast of West Africa, the biggest of the Canary Island and also the island with the largest number of visitors of the archipelago. It is characterized by good weather year-round. With its extension of 2052 km² it is a bit bigger than London. Its size and road-network make it easy to explore; you will need a minimum of 4 days, but if you want to be truly amazed by its outstanding natural beauties mentioned in our list, you will need one week!
Tenerife is good for visitors who want to combine active and passive leisure activities to break out of the rut. Explore sunny beaches with black sand, hang out on pebble beaches, snorkel in the crystal clear waters of the Atlantic Ocean, or simply take a cable car up to the top of Teide Volcano.
The residents of the island speak Spanish. At tourist facilities, most vendors speak English at an intermediate level, but even if they don´t, you will still be served properly; they rarely feel uncomfortable due to their limited English proficiency.
Local delicacies include papas arrugadas (wrinkly potatoes cooked in natural saltwater, often served with mojo sauce), parrotfish, sardines, and grilled octopus.
Renting a Car is incredibly cheap and takes minutes
Before landing on Tenerife´s runway at TFS (Tenerife South Airport) or TFN (Tenerife North Airport), it is recommended to rent a car for the duration of your stay. It is absolutely affordable, with ridiculously low prices, probably the cheapest in Europe, and the rental process takes a maximum of 5 minutes. Fuel is also very cheap compared to the European Union´s average.
Accommodations in the four corners
If you prefer relaxing on lush beaches and enjoying good weather, it is suggested to book a room or apartment on the south side of Tenerife, where the weather is consistently warm and pleasant.
If Los Gigantes and breathtaking views are your favorite, then Puerto de Santiago can be a great choice. However, if you cannot tolerate warm weather, the north side may be more suitable for you. There are dozens of hotels in Puerto de la Cruz, which is known for its beautiful gravel and rocky beaches.
If you prefer experiencing city life during your vacation, Santa Cruz de Tenerife can be a great option where you will find the following: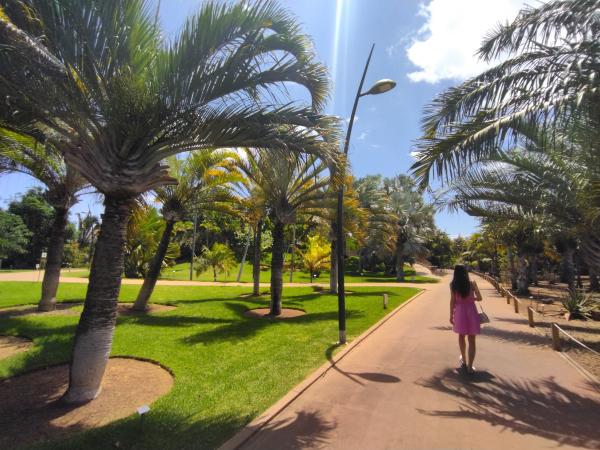 Botanical Garden
1. Botanical Garden
2. Auditorio de Tenerife (a big concert hall)
3. Mercado Ntra. Señora is the local market that serves as a reference point in the city, and it is one of the must-visit places.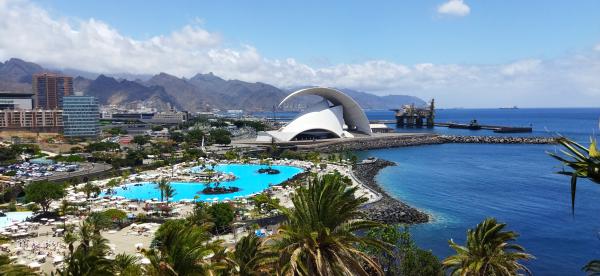 Mercado Ntra. Señora
Teide Vulcan
Mount Teide has the highest peak in Spain, with an altitude of 3,715 m (12,188 ft), and it is the third highest volcano in the world. It is a must-see if you are in Tenerife for the first time. It was formed over 170,000 years ago when a former volcano collapsed.
To legally reach the peak, you will need to obtain a free permit from Reservas de Parques Nacionales online.
The volcano and its surroundings, known as Teide National Park, cover an area of 18,900 hectares and were designated as a World Heritage Site by UNESCO in 2007. Teide and its surroundings comprise a slow-moving, geologically complex, relatively old, and mature volcanic system. Teide holds global importance in providing evidence of the geological processes that shape the evolution of oceanic islands. The volcanic landscapes have been featured in many movies, including Fast & Furious, Star Wars, and Clash of the Titans.
Masca
Masca is located in the Parque Rural de Teno with fewer than 100 inhabitants, at an elevation of about 800 meters above sea level. It is nestled in the heart of the mountains and serves as one of the most authentic examples of rural Canarian architecture. The road, full of hairpin bends, takes you on a breathtaking journey with mesmerizing views along the way.
In Masca, the main square, chapel, and small stalls of local artisans selling pottery shine brightly. Take the opportunity to enjoy a cocktail on one of the fantastic terraces overlooking the cliffs.
Masca is also renowned for its fantastic hiking route, which starts from the village and leads to a volcanic sand cove at the foot of the mountains.
Subtropical Forests
"Sendero El Bosque Encantado" offers fantastic hiking trails, but it is advisable to park your car in a crowded parking area, if available, due to occasional instances of car theft. It is recommended to keep your valuable gadgets concealed throughout your trip; the car rental agency may also provide safety reminders during the rental process.
Anaga Rural Park is located in the northeastern tip of Tenerife and is designated as a protected natural area. This mountainous region is known for its rugged peaks, deep ravines, and unique native plant species, which led to its UNESCO recognition in 2015. While Tenerife is renowned for its resort towns, it also encompasses numerous untouched and enigmatic locations within mountain ranges like Macizo de Anaga. This particular area is characterized by its untamed and secluded terrain, featuring lush forests with high humidity.
Rent a Boat and explore the Atlantic Sea by on your own
There are a few charters available, but they are limited in number. In general, it is easier to join an organized trip rather than renting a boat on your own. The International Certificate for Operators of Pleasure Craft (ICC+B) license is widely accepted, although it is primarily applicable to the Adriatic region. If you choose to rent a sailing boat or a power-driven vessel, you may be prohibited from observing dolphins during your journey.
Dolphin and whale Watching
There are several national laws in place to protect dolphin and whale populations. It is crucial to be mindful of human activities that could impact these populations, including dolphin watching. As a result, it is prohibited to observe dolphins and whales from a rented boat. However, there are several affordable organized trips available for dolphin and whale watching.
Los Gigantes
The breathtaking cliffs of Los Gigantes, towering at 1640ft (500m) above the ocean, offer a mesmerizing panorama that serves as a reminder of our insignificance in the grand scheme of things. The scenic viewpoint of Archipenque Mirador, located slightly above the village, presents the finest vantage point to appreciate the awe-inspiring vistas that encompass the entire area.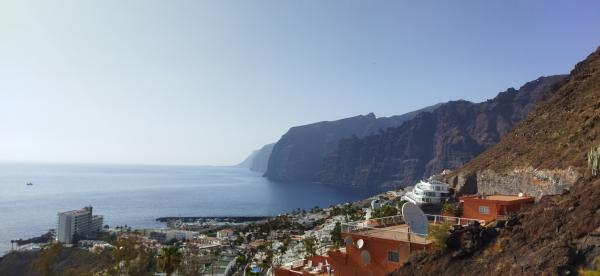 Awe-inspiring vistas
Top 5 Beaches in Tenerife
1. Playa de las Teresitas
2. Playa del Duque in Adeje
3. Playa de las Vistas
4. Piscinas Naturales El Caleton in Garachico
5. Benijo
Recommended online resources
-
Puerto De La Cruz
-
Tenerife Health Destination
-
Everything you need to know before buying property in Tenerife
-
How to buy a property in Spain
-
Express guide to business in Tenerife
References utilized in composing this article
[1]
https://www.guidetocanaryislands.com/things-to-do-in-tenerife/
[2]
https://cyprusandaxi.com/is-tenerife-bigger-than-london/
[3]
https://www.tripadvisor.com
[4]
https://www.spain-holiday.com/Tenerife/articles/tenerifes-top-ten-beaches
[5]
https://vendevisitaatenerife.com/piscinas-naturales-el-caleton/
[6]
https://www.hellokanariszigetek.com
[7]
https://bananapalmbay.com/beach/playa-del-duque-strand-6
[8]
https://tenerifeholiday.es/blog/enjoy-the-golden-sands-of-playa-las-vistas/
[9]
https://www.guidetocanaryislands.com/mount-teide-permit/
[10]
https://www.needpix.com/photo/252345/teide-vulcan-national-park-tenerife
[11]
https://whc.unesco.org/en/list/1258
[12]
https://travel2next.com/things-to-do-in-tenerife/
[13]
https://www.tenerifewhalewatching.com/code-of-conduct/
[14]
https://gotenerife.net/en/explore/masca/
[15]
https://tenerifesurprise.com/what-to-do-and-see-in-tenerife/masca/
[16]
https://www.wisevisitor.com/loro-parque/
[17]
https://www.moonhoneytravel.com/anaga-rural-park-tenerife-spain/